Bio'


Sandra K. Ziebold

(Sandy) is the Creative Owner of Ziebold Imagery.




Ziebold Imagery

was established in 1996. The company creatively directs and provides services to clients meeting their needs for creative team direction, graphic design, fine art, image consistency, strategic marketing and communications, and win-win partnership services collaboration agreements. Ms. Ziebold is responsible for managing the operating business units of the company including R&D, marketing, sales and services. She is an American Artist from Indiana best known for her photography and mixed-media work that is most often of realist subject base. Her work has been exhibited at special events, galleries and sold in retail.




She strives on building solid business relationships by employing trust and professionalism; and by ensuring each business engagement provides solid and sustainable value. Embracing a perfect blend of a detail oriented corporate work ethic alongside a creative and artistic outlook on the world around her. She currently lives and works in Indianapolis, Indiana.

Ms. Ziebold is seen as a thought leader in the creative marketing space and has worked extensively with many clients both for-profit and non-profit.
She has authored online article publications one of which is entitled, Creatively Develop Strategic Win-Win Partnerships.
She is a supporter of Gustavus Adolphus College Linnaeus Arboretum and regularly volunteers the offer of art direction services.
She participates to support the American Cancer Society in Relay For Life.
She also has served as a Grants Panelist for the Indiana Arts Commission.

Experience

In addition to being the Creative Owner of Ziebold Imagery, Ms. Ziebold currently is a Consulting Partner of Mason Consulting Group, responsible for assisting with the company's creative direction and collaborative strategy. She is Vice-President on the Board of Directors for Beacon of Hope Center for Women, Inc. She is also a current member of the American Advertising Federation and is a GeNext Speaker; believing strongly that we need to impart wisdom gained from lessons learned, share and advise our younger generations. She speaks to classrooms upon request of their professors.
From 2006 to 2014, she was also with a high-end luxury consumer goods indoor and outdoor furniture and accessories retailer. Her responsibilities were business operations, development, marketing, communications and advertising direction for Especially Wicker, LLC a Top 100 Casual Living Powerhouse Retailer.
---
Artist Statement

I grew up on a small farm in northern Indiana and remember praying nightly for deliverance from what I felt at the time was an absolutely horrid lifestyle situation. Now I look back fondly at all the lessons and wonderful gifts of nature that surrounded me. I am fond of the expression...

"Attitude Is The Mind's Paint Brush, It Can Color Any Situation." -Anonymous

My mind is always busy with projects and ideas. A persistent inspiration of mine is mixed-media paintings using seeds. The
Ag
riculture is in me! I would love to share my vision with agricultural firms seeking to commission an artist.
My story has lots of layers
and many experiences throughout my journey have shaped me. My son and I dealt with some pretty rough times during the course of a thirteen year period. We developed a pattern during that time of safely tucking ourselves away and I would say to him "let's paint candy land" and to escape we would each take turns describing what this beautiful happy candy land place looked like in our minds. Many years later after that period passed as part of our healing process, we gathered a giant canvas, paints and a large assortment of candy and together painted candy land. Every night I would say to him have sweet candy dreams. Candy was our escape and helped us heal. Candy just makes you smile and has a healing quality that I want to share with others. I am always adding to an evolving series of candy related art entitled
Sweet Candy Dreams
.
I believe that art, creativity and motivation are all about feelings and emotions. I am an artist that strives in the everyday to keep things simple and spread positivity. I look for the peace and zen in the hustle and bustle, excitement and wonders of life and nature around us. I draw, paint, photograph, motivate, write, design and mix together artistic elements and media of all types to evoke fine art, literary and graphic design works that convey what I feel and visualize. Positive, creative energy is infectious...Other artists inspire me; I hope that I inspire other artists too! Inspirational 'props' to Russian street artist Pavel Puhov for his work entitled, Eyeglasses. LOVE IT!

I have lived in many states throughout the US and in the past ten years have had the wonderful pleasure to travel. An artists mind is never idle! When creating, whether in the beautiful US or traveling to other countries, always remember...Let the beauty of nature inspire you! When possible Siesta!

Sandra K. Ziebold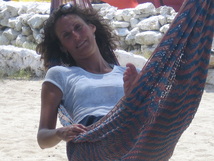 Visual Arts | Graphic Arts, Mixed Media, Painting, Photography, Works on Paper

Medium | Acrylic, Drawing Media, Photography

Style | Realism, Painterly, Impressionism, Naturalism
---
---
---