Here is an excerpt from a literary collective work series:
Beauty of a Moss Covering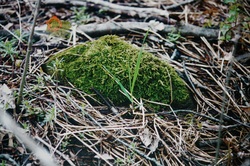 by Sandra K. Ziebold | 199 Words
Excerpt from
Reflections of Nature
a visual and literary collective work
© 2003
Beautiful carpets of moss are along the path that I have chosen today. Intensely green the feathery-plush covering is thick and obviously has correctly found a favorable reproducing location. The coloring is a vast contrast to the twigs and other plant life nearby. I embellish the idea that the rock under the blanket feels very snug. Spattered about on both sides of the path the coloring of the moss dances in and out of view. Suddenly a rain shower descends upon us. It is as if we are being entertained with a drum solo. As the rain makes its way among the trees and plant life it impacts at different rates and strength. Flooding the path with a drip, plunk, thud the rain seems to have a rhythmic song all of its own. The dancing moss and drumming rain drops make my walk an invigorating experience. By the paths end I feel as though I have been wrapped in a quilt and have been serenaded by a magnificent drummer. The way that nature can touch our very core, and make us forget anything troubling for awhile, is a marvelous gift.
---