---
Artist Statement

I grew up on a small farm in northern Indiana and remember praying nightly for deliverance from what I felt at the time was an absolutely horrid lifestyle situation. Now I look back fondly at all the lessons and wonderful gifts of nature that surrounded me. I am fond of the expression...

"Attitude Is The Mind's Paint Brush, It Can Color Any Situation." -Anonymous

My mind is always busy with projects and ideas. A persistent inspiration of mine is mixed-media paintings using seeds. The
Ag
riculture is in me! I would love to share my vision with agricultural firms seeking to commission an artist.
My story has lots of layers
and many experiences throughout my journey have shaped me. My son and I dealt with some pretty rough times during the course of a thirteen year period. We developed a pattern during that time of safely tucking ourselves away and I would say to him "let's paint candy land" and to escape we would each take turns describing what this beautiful happy candy land place looked like in our minds. Many years later after that period passed as part of our healing process, we gathered a giant canvas, paints and a large assortment of candy and together painted candy land. Every night I would say to him have sweet candy dreams. Candy was our escape and helped us heal. Candy just makes you smile and has a healing quality that I want to share with others. I am actively creating a series of candy related art. I've been asked to submit my work as a visiting artist and I envision this completed group of work to be my visiting series entitled
Sweet Candy Dreams
.
I believe that art, creativity and motivation are all about feelings and emotions. I am an artist that strives in the everyday to keep things simple and spread positivity. I look for the peace and zen in the hustle and bustle, excitement and wonders of life and nature around us. I draw, paint, photograph, motivate, write, design and mix together artistic elements and media of all types to evoke fine art, literary and graphic design works that convey what I feel and visualize. Positive, creative energy is infectious...Other artists inspire me; I hope that I inspire other artists too! Inspirational 'props' to Russian street artist Pavel Puhov for his work entitled, Eyeglasses. LOVE IT!

I have lived in many states throughout the US and in the past ten years have had the wonderful pleasure to travel. An artists mind is never idle! When creating, whether in the beautiful US or traveling to other countries, always remember...Let the beauty of nature inspire you! When possible Siesta!

Sandra K. Ziebold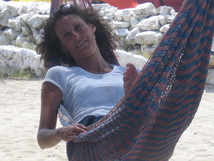 Visual Arts | Graphic Arts, Mixed Media, Painting, Photography, Works on Paper

Medium | Acrylic, Drawing Media, Photography

Style | Realism, Painterly, Impressionism, Naturalism
---
---
---